Trust Mark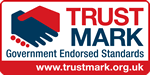 TrustMark is the Government backed initiative, supported by consumer protection organisations to help homeowners find reliable and trustworthy tradesmen to carry out repairs and improvements the inside and outside of their homes.
This membership allows registered contractors to apply for guarantees on any domestic works. The guarantees are underwritten by QANW, warranty insurers, all of which gives the domestic client peace of mind in the event of the contractors' unlikely administration or indeed faulty workmanship.
Please note that Bain and Irvine Ltd will not charge additional fees for the Trustmark Guarantee process.